The harvesting glitch has been fixed and all plants can be harvested again (special thanks to AJStar for the information).
The recently added Mums and Pumpkin seeds have been harvested for the first time by BI member FluffyCuddle44.
The Mum harvests a Mum's Flower Pot for decorating, and the pumpkin harvests a Pumpkin Pie (also for decorating).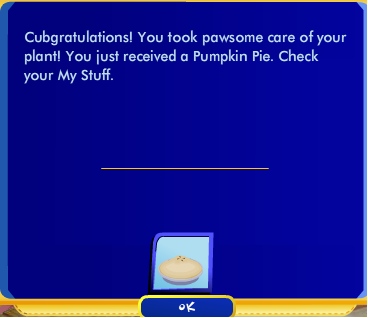 The Star Confetti is back! Now, when you eat your Jr. CyBearGuide cookie, stars appear around your head
(special thanks to olops for the image)
With the market returning on September 7th, be sure to save up some Bear Bills for more chances to win pawsome prizes!
The Gymnasium Games are once more awarding Bear Bills (special thanks to FluffyCuddle44 for the information).
And Pawlette has a new quest, on the Boardwalk by the Ferris Wheel. (special thanks to karenbearhug for the images).


Complete the quest to receive 25 BearBills.
TGIF
(Thank goodness its Friday) And thanks to Pandyma618 for all of the information gathering.

Related posts: