The Kooky Spooky Funhouse opens with a maze and game! (thanks to ginger14 for the images)
Get to the Kooky Spooky Maze through the Fun House floor.
Complete the maze to receive Bear Bills, a Kooky Spooky Costume and Spell Book (special thanks to hannahg98 for the image)

And a new 'Run Fur Candy Game" – beware of spiders!

A Broomstick Ride is now available in the Bearville Outfitters! (thanks to FluffyCuddle44 for the images).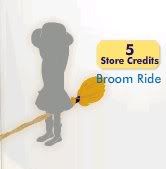 As well as several new outfits for your BABV Character, Cub Condo, and Furry Friend! (thanks to ginger14 for the images)
Related posts: